I realized I never posted the

Directions for ...

Crystallized Sugar Eggs
, you just mix sugar with enough water until it gets like sand for sandcastles.
(If you want a fine crystal, use superfine sugar; if a larger sparkle, just use regular. For a stronger egg, you can add egg white. I don't because too many people are avoiding eggs, and kids like to eat them. )
Pack your mold, and level off. Turn over onto a cookie sheet, remove mold. After you remove them from the molds, cut an equal amount from each end for the 'peep' hole, and butt the 2 together. That keeps the area from drying out like the outside shell.
Here you have 2 options: let dry naturally, or use a very low oven.
When you have a dry shell, pick it up and
carefully
spoon out the still damp sugar mix, leaving an equal width shell all around. Be careful with the edges of the peep hole. Set back down and let it dry the rest of the way.
When both sides are thoroughly dry, add your designs to the inside, and put together with royal icing.
Pipe along the seam, and add any decorations. Let dry, package, and give away.
That's it.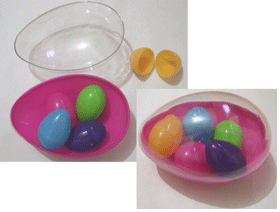 -
The Molds you use are just the plastic eggs. They come in 2 parts. You can buy them at Michael's or JoAnne Fabric or just at the dollar store.
-
Exactly the same technique is used for Christmas ornaments; or to make sugar cubes and decorate them for fancy tea parties or weddings, as well. It's much cheaper than buying them, and you can choose your own size. My daughter's friends used to love those, when she was little.
-
Found you some directions with pictures.
http://www.thriftyfun.com/tf334674.tip.html